We continue today with a new post as part of our 'Praise Him' series. It comes from a great friend of ours Isabelle Lussier. Enjoy!
While in the Girl Guides as a child (known as Girl Scouts in the US), I learned to predict the weather based on the colors of the sky, identify the plants in the forest, and so on. Since I became a Christian back in 1997, I am even more in tune with my Creator and love to spend time in the outdoors while we camp.   I marvel constantly at the creativity of God's creation.
One of my favorite places to visit has always been the zoo.   Not only can I learn more about animals I might never encounter in the wilderness, but can marvel at God's creative work for each and every plant, bird, fish, and animal around the planet.
This summer we went to visit to Toronto Zoo with the kids.   The zoo had re-opened the penguin exhibit,    and not only did we see the African Penguins but other nautical birds like the white pelican. I recently learned while reading The World of Animals that the pelican's chin-and-throat bag, or gular pouch, expands to hold more than twice as much as the stomach.
Let me tell you that it was impressive to see this pouch enlarging itself under the water!   I also learned while reading the book that the wingspan of the white pelican, which is the biggest water bird by the way, can reach 8 feet (2.7 meters).   Impressive isn't it?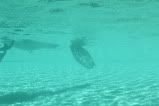 From the book I also learned that white pelicans sometimes work together as a team.  Up to 40 of them surround a spread-out group of fish. Once in position, they will beat their wings on the water and kick their feet, which drives the fish into a smaller, denser group in shallow water.  At this point I guess you can say that lunch is served because every 20 seconds or so, the pelicans
plunge their beaks into the water and scoop up their prey.
My question to you today: When is the last time you stopped whatever you were doing and taken the time to see God in the things that surround you?  Slow down to look at the trees changing colors in the fall or grab a book to discover God through His creation. You will be surprised by the things you learn while doing so.
About Isabelle:
Isabelle lives in Ontario, Canada with her husband Robert and their four precious kids: Alexandre (grade 5), Dominic (grade 2), Jérémy (grade 1), and Jasmine (kindergarten), whom they have homeschooled since 2007.  They own and manage an IT business in the National Capital region.  She is the author of CanadianladybugReviews! and Life at Oak Grove, and also writes for the Woodall's blog on a regular basis. Isabelle has a masters degree in Information
Technology.